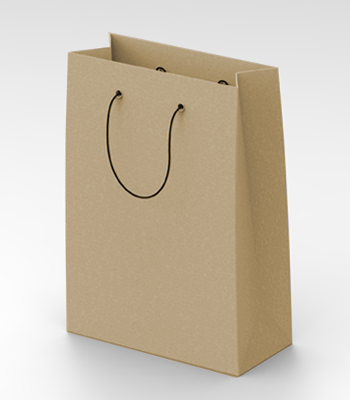 Standard brown paper bags are made from kraft paper. Tote-style paper bags, such as those often used by department stores or as gift bags, can be made from any kind of paper, and exist in any color. Paper bags can be made from recycled paper. Some local laws requiring bags to have a minimum percentage of post-consumer recycled content.
Bags are made from one whole sheet or from two halves. There are 3 types of handles on paper bags: rope (polypropylene, polyester, cotton), twine and paper.
Lamination
Lamination gives the paper water resistance, durability, strength and a presentable appearance. The film for lamination can be matte and glossy. Usually the laminate thickness is 20–35 microns. Lamination can be one- and two-sided. Depending on the purpose of the final product, the laminate is applied usually from outside or inside. Press preparation for printing takes from 10 to 100 sheets.
Assembly
Packages can be assembled manually or using automatic assembly lines. However, automatic assembly has one disadvantage – it imposes serious restrictions on the size of the manufactured products. Therefore, large format packages are often assembled manually. During the assembly process, the prepared sheets are folded at the creases. Then the sheet is glued according to a certain algorithm, the bottom and handles are strengthened with special cardboard, after which a special machine makes 4 holes on the bag (either with or without the grommet), into which the handles are inserted and tied. During the assembly phase, losses are from 10 to 100 of paper bags.
The adhesives used in the assembly of bags are also different – acrylic, water-dispersion, hot melt glue, and special narrow double-sided tape are also used.